Featured Printables
Hi there! Jtarp Design is extremely delighted to see you. We, at Jtarp Design, are thrilled to present to you these exclusive Watermelon Free Printable Letters and Numbers that can be easily printed from this page. These printable letters and numbers are not just ordinary, they are extraordinary! They are incredibly versatile and can be used for a multitude of purposes. So go ahead, unleash your creativity, and enjoy the endless possibilities that these remarkable printables offer!
Personalized designs are very important in the world of crafting and being creative. When you want to plan a party, decorate your space, or work on a school project, it can be really helpful to have printable letters and numbers that are versatile and eye-catching. We are excited to tell you about Watermelon Printable Letters and Numbers, an amazing resource that you can get for free from our website. Get ready to add a cool and fun touch of summer to your projects!
I genuinely hope that you enjoy it. Your continued visits to my website mean a lot to me, as they provide the motivation for me to keep providing free design work. In addition, I would like to suggest taking a look at the designs listed below.
I think you may also want to see our full list of printable letters and numbers. Click here to check all of our Free Printables.
watermelon Free Printable Letter A to Z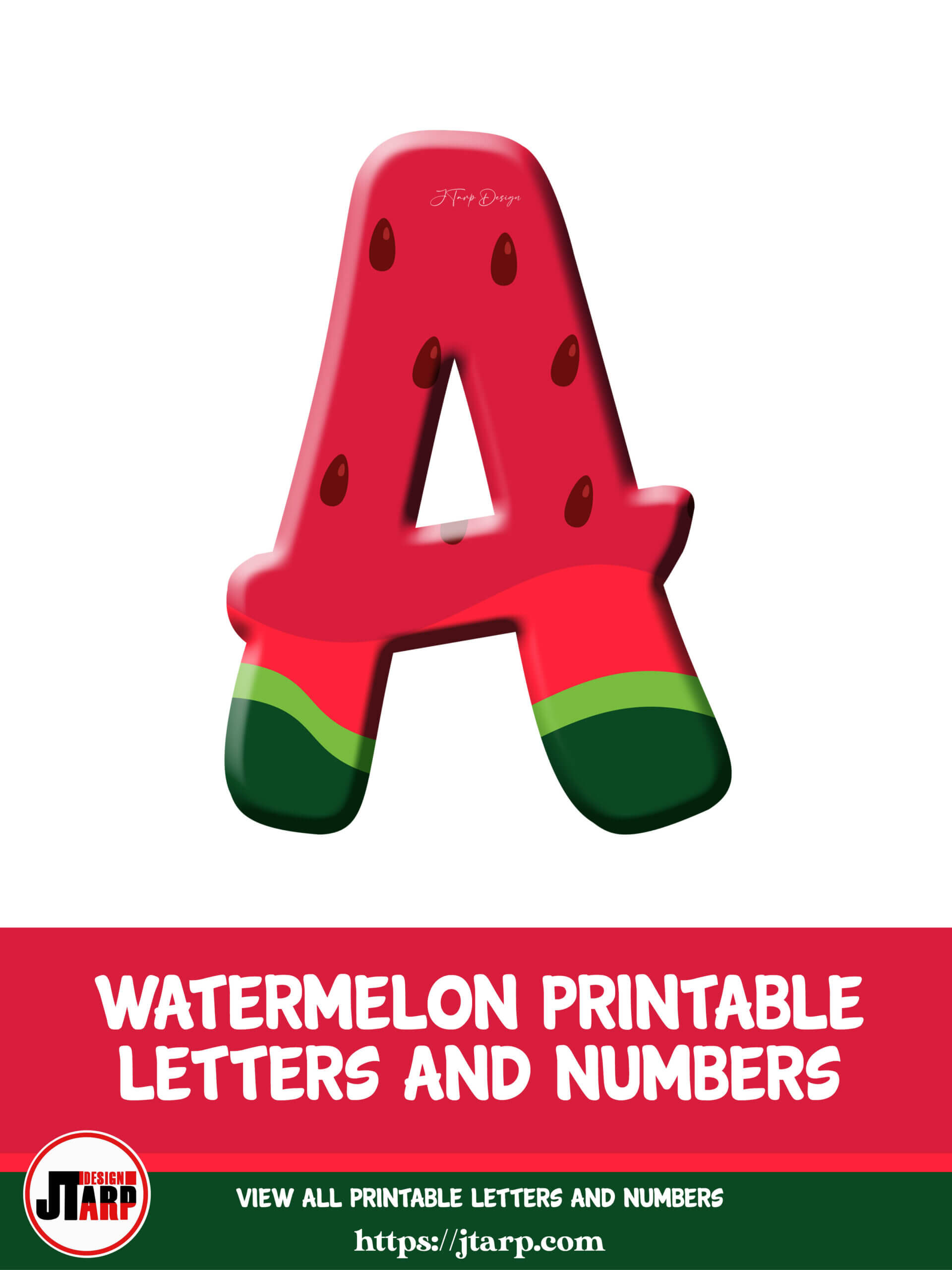 Why Watermelon?
Watermelons are not only synonymous with summer, but they also evoke a feeling of nostalgia—a vibrant fruit that represents sunny days, picnics, and refreshing treats. Using watermelon-themed letters and numbers in your designs not only adds a playful and cheerful atmosphere, but it also infuses your creations with a touch of whimsy. With their bright green rinds and juicy red flesh, watermelons bring a pop of color to any project, making them an ideal choice for a wide range of occasions. Moreover, watermelons can be enjoyed in various ways, whether sliced into thirst-quenching wedges or blended into thirst-quenching smoothies. So, whether you're designing invitations for a summertime soirée or creating eye-catching posters for a farmers market, incorporating watermelon motifs will undoubtedly make your content stand out.
Versatile Applications: The Watermelon Printable Letters and Numbers can be used in various creative endeavors. Here are a few exciting ideas to get you started:
Party Decorations: Spruce up your next celebration by using watermelon letters and numbers for banners, table centerpieces, and party signs. Whether it's a birthday, baby shower, or backyard gathering, these printables will set a lively and festive tone.
Educational Projects: Engage young learners by incorporating watermelon letters and numbers into educational activities. From spelling exercises to counting games, these vibrant printables make learning both fun and visually appealing.
Scrapbooking and Journaling: Add an artistic touch to your memory keeping by using watermelon-themed letters and numbers in your scrapbook layouts and journal entries. Create titles, headlines, or simply accentuate your photos with these eye-catching designs.
DIY Wall Art: Make a statement on your walls with watermelon letters and numbers. Create personalized artwork, monograms, or inspirational quotes. Let your imagination run wild and transform your space into a lively and vibrant oasis.
watermelon printables number 0-9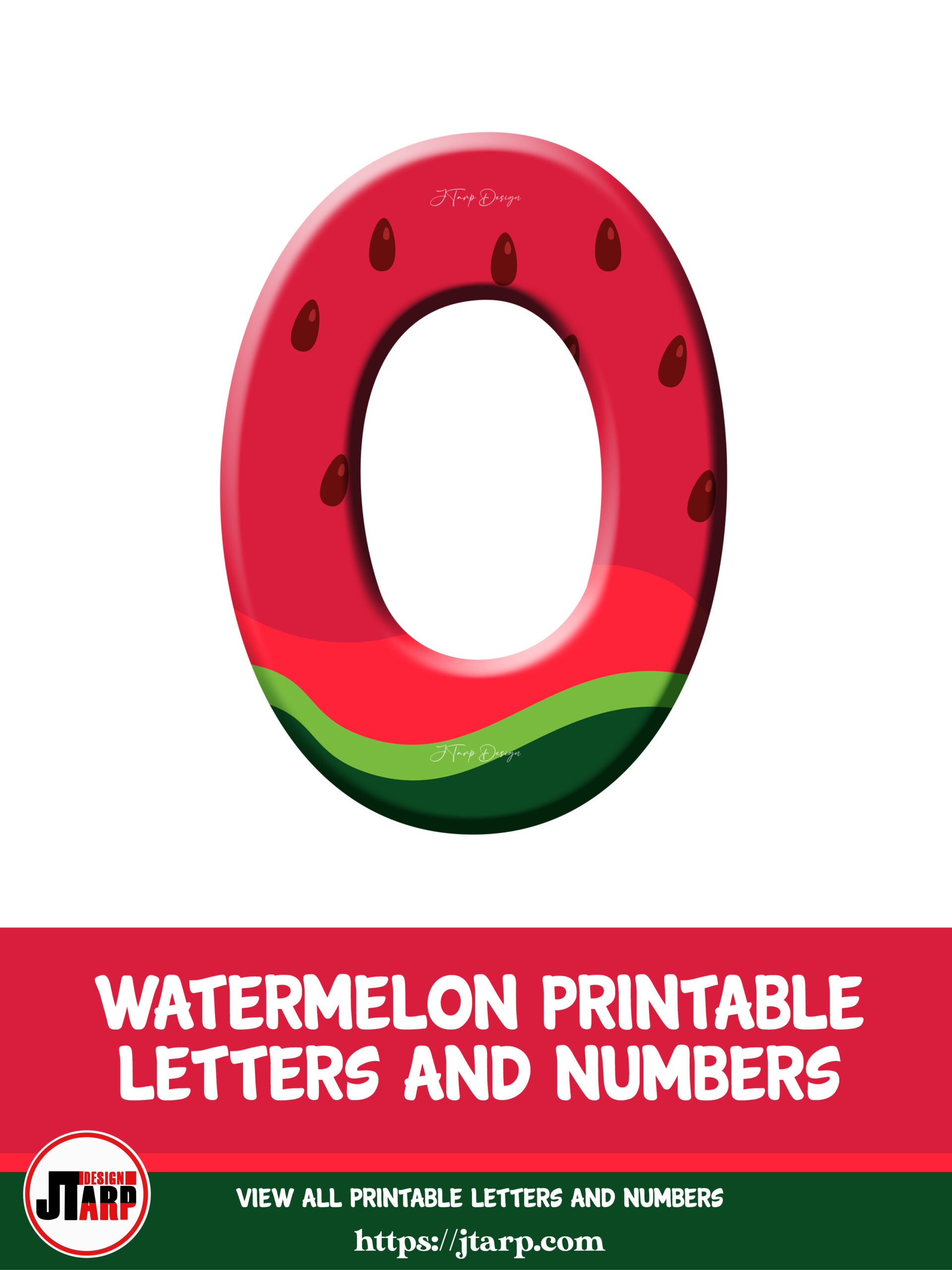 How to Download Cocomelon Printable Letters and Numbers
"We are firm believers in making creativity within reach for all. To acquire the Watermelon Printable Letters and Numbers, simply adhere to the instructions outlined in this captivating blog post."
Step 1: Find the letters you want to download
The first step is downloading the letter from JTarp Design to determine the letters and numbers you want to use for a project or event.
Step 2: Long-press the image or right-click
For you to be able to save the image to a computer or device. You have to long-press the image or right-click the mouse on your computer.
Step 3: Click save
This is the final step; you must now press the save button on your computer screen. And ta-da, your printables are saved to your device and ready to print.
Infuse your crafts with a delightful dose of summer by incorporating the Watermelon Printable Letters and Numbers into your next creative endeavor. Moreover, with their vibrant colors and playful design, these printables will undoubtedly bring a fresh and exciting twist to your projects. So, download your free set and let your imagination run wild. Get ready to make a splash with your watermelon-inspired creations!
If you found this article informative and enjoyed the Free Printable Watermelon Letters, we kindly ask you to consider saving the image below by pinning it. Pinning the image not only helps to remember it for later use, but it also offers several advantageous applications. Moreover, stay up-to-date with the latest news and updates by following our Facebook Page.
Need Graphic Design?
Get your personalized tarpaulin design for your event.