Welcome to JTarp Design, the suitable website for you. I want to start by thanking you for your interest in our work. We are delighted that you found us. Christmas, as they say, is a time of giving. We will give you our Merry Christmas and Happy New Year Outdoor Banners.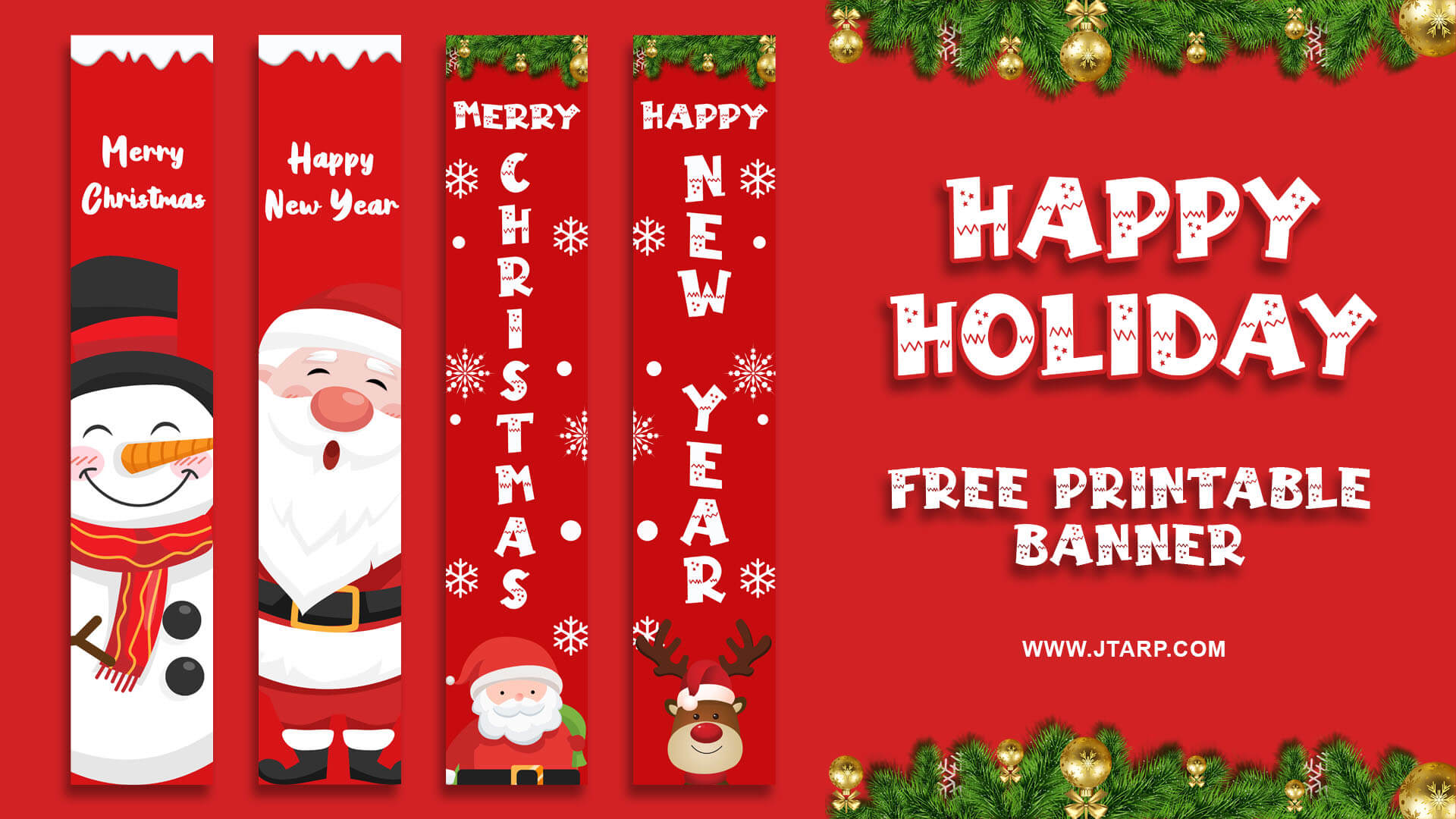 Many people enjoy adding holiday decorations to their homes and workplaces as Christmas approaches. A Christmas banner is a common way to add a little holiday cheer. A Christmas banner is a simple and inexpensive way to bring the holiday spirit into any room. It can be hung on a wall, over a fireplace, or across a doorway.
There are countless Christmas banner designs to choose from, ranging from traditional and classic to modern and trendy. Colorful snowflakes, Santa Claus, reindeer, Christmas trees, and holly are a few popular patterns. Also common on banners are seasonal greetings like "Merry Christmas," "Happy Holidays," and "Ho Ho Ho."
Here are ready-made Christmas and New Year Outdoor Banners. We hope you will love it.




If you're feeling creative, you can even make your own Christmas banner. All you need is some paper or cardstock, scissors, glue, and any other decorative elements you want to use. You can find plenty of printable Christmas banner designs online, or you can create your own from scratch. Simply print out the banner design on your paper, cut out the individual pieces, and glue them together to create your banner.
Last month, we also published a Merry Christmas Printable Banner which you can download for free. See the design below
Once your banner is finished, you can hang it up using string or ribbon. You can also add extra touches, such as glitter, stickers, or other decorations, to make your banner even more festive.
Printable Letters and Numbers you might also be interested in
Any holiday home would benefit from a festive and vibrant Christmas decoration banner. People of all ages can take pleasure in it, and it brings a little bit of cheer and joy to the holiday season. Banners can be used as part of a larger holiday display or hung over mantels and doorways. They frequently consist of fabrics or felt and feature holiday symbols like Christmas trees, snowflakes, and Santa Claus. For added visual appeal, some banners even incorporate lights or other special effects.
A simple and enjoyable way to get into the holiday spirit is to decorate with a banner. They can be personalized to go with the theme of your holiday décor and can be made by hand or bought from a store. Banners are a great way to add a splash of color to any space and can be hung both indoors and outdoors.
Christmas banners not only look nice, but they also serve as a reminder of the warmth and joy of the season. They can make your home feel warm and inviting, and both family and guests can take pleasure in them. A Christmas decoration banner is a wonderful way to celebrate the season, whether you select a conventional banner or something more unusual.
In conclusion, a Christmas banner is a fun and easy way to add some holiday cheer to your home or office. Whether you choose a ready-made design or create your own, a Christmas banner is sure to be a hit with family and friends, and is a great way to get into the spirit of the season.
If you have any queries, please do not hesitate to contact me by e-mail. You can also leave a comment below. You may also contact me through the site's official Facebook Page. It can be found on the Contact Page. And I will respond to your message as soon as I read your email.