Here is the sample layout of Mickey Mouse Inspired Theme Invitation. You may use this as your reference in making your own invitation.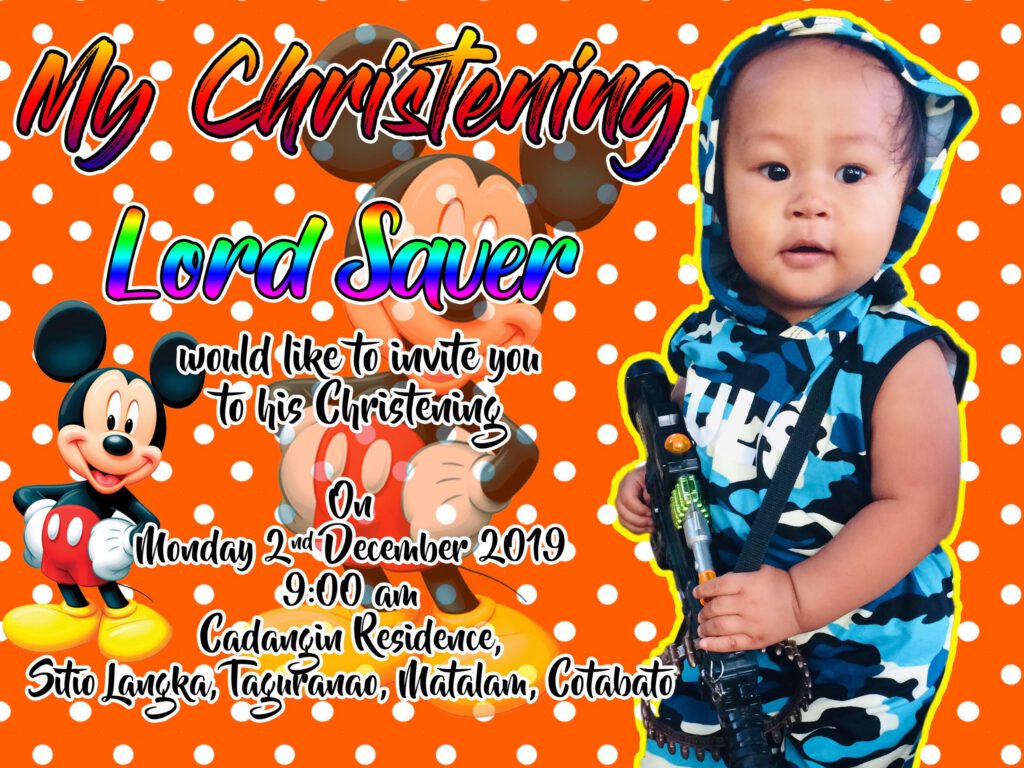 In this way it had been easily for us to create our customized invitation then we should always look and identify this from our sample reference
➡️ Background – we should always look/search 👀 to similar or near background images that are utilized in our reference.
Download those backgrounds and fasten them to our working template.
In this step we'll easily form our base background to our invitation
➡️ Details – check out the position of the reference invitation.
At now replace those information together with your own details to your working layouts.
Font must be readable and understandable.👍
Always check ✔ the spelling and minor details like exact date, time, venue etc.
➡️ Photos of Celebrant's – Same process wont to replace the photos of the celebrant's with these photos of the kid .
➡️ Elements – Adding some additional elements to your working daughter's christening invitation pink like flower image, glitters, butterflies makes your invitation look great, this element adds more appealing effect to the persons who received the invitation.
These are basic steps to make your personalized invitation for christening.
How to choose proper themes for your christening?
Here are very simple tips I might wish to share with you and that I hope the following pointers may additionally assist you to possess memorable events together with your love ones.
✔ The themes should be neat in look because your celebrant was a baby.
I hope you guys like my sample Barbie Tarpaulin design. And I hope, I give you some tips and tricks on how to make your own unique design.
If you have any questions you can freely send me an e-mail. Or you may leave a comment down here. You may also send me a message to the Official Facebook page of this site. You may find it on the Contact Page. And I guarantee that I will respond to your message as soon as I read your email.
---
Need Graphic Design?
Get your personalized tarpaulin design for your event.